GIVE US A HOWL We'd Love To Hear From You!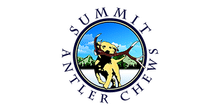 Happy Retales is proud to carry Summit Antler Chews in Brentwood, Tennessee. Every year mature male elk grow and shed a set of antlers. As the antlers begin to grow in the springtime they are soft, filled with vessels, and covered in a skin called velvet. As the animals' hormones fluctuate with mating season the antlers start to harden at the base where the antler meets the skull, cutting off the blood supply to the velvet and causing it to fall off. During mating season the fully hardened antlers are used to mark the animals territory and spar with other males; both of which help determine male dominance within the herd. After mating season ends in winter these antlers are shed naturally by the animal. If left in the wild, these antlers are chewed on by squirrels, chipmunks, birds, mink, beaver, and even wolves who all enjoy the nutritional benefits antlers have to offer.
Come visit our pet supply store in Brentwood, TN specializing in quality food, treats, and supplies for cats and dogs.