Pet Supplies, Grooming & DIY Dog Wash in East Nashville, Tennessee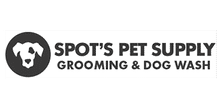 Happy Retales is proud to carry Spot in Brentwood, Tennessee. Spot's Pet Supply provides a range of products for mammals like canines and felines as well as other types of critters for the East Nashville pet community. Our quality products include food, toys, cleaning, crates, beds and much more. We're hoping that you'll think of us as more than just a place where you buy food for your critters; we want to be East Nashville's premier source for pet care – well, except medicine, we're not animal doctors. Along with our friends at The Dog Spot, we can board, groom and wash your four-legged companions to keep them healthy, happy and beautiful. Our do-it-yourself dog wash is $11.99 for ANY size dog!
Speaking of The Dog Spot, that doggie daycare is actually where Spot's has its origins. After experiencing the support of the East Side pet community for quality boarding services, which culminated in being voted best doggie daycare in Nashville Scene for 2012 and 2013, (and 2014), our ownership decided to extend the same great service to pet supplies.
Dog Grooming
Nail Grinding
Extra Brush Out
Flea Treatment
Teeth Brushing
Anal Glands
Cat Grooming
Nail Grinding
Extra Brush Out
Flea Treatment
Teeth Brushing
Anal Glands